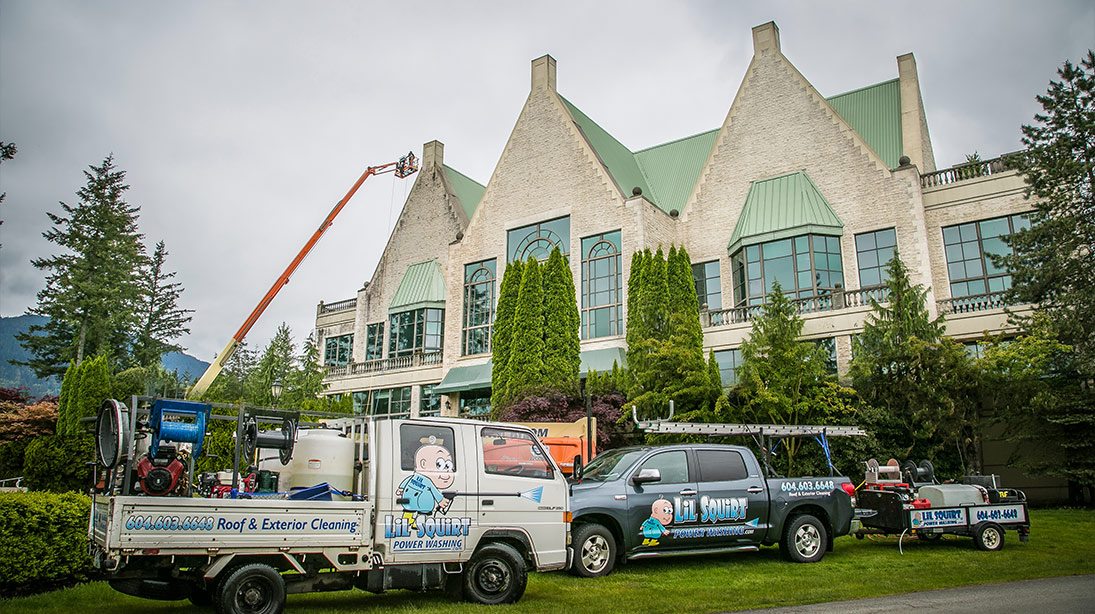 Make that first impression count. And better yet? Make it last. Lil Squirt Power Washing is your commercial pressure washing expert. You deserve to get the most out of your property — and our team is here to make that happen!
There are basically only three types of exterior Pressure Washing approaches used on residential and commercial properties. We know the appropriate one(s) to use for certain situations.
Pressure Washing
is the use of water under high pressure together with appropriate cleaning solutions used in the hands of our professionals who understand the proper pressures, proper cleaners and best approaches for different surfaces. This used to be the most commonly used approach for cleaning the exteriors of houses, but we have found a different approach that is better for most finishes, and that provides a better long last solution. That approach is listed below.
Power Washing
is also high water pressure which is used along with VERY hot water, and appropriate cleaners, and is used for more hardy surfaces like concrete driveways or walkways, and where the surface being cleaned has some challenging areas that require special approaches. Things like dried on chewing gum, bird droppings, grease and oil stains require some special attention to get them out of the concrete. We have extensive experience in the best approaches to use for these situations, and know that you will simply be amazed at the final look of the driveway when we're done. All of our approaches are done keeping in mind that we do not want to do any damage to the materials being cleaned, the surfaces, the landscape of your yard and always keeping the environmental concerns in mind.
is just that – It is also Pressure Washing, but the pressure is low, and the manner in which we apply the water together with the effective cleaning agents we deploy provide a safe, and definitely effective finish to your siding. A combination of these might be used for some roofing materials, and we also include some soft brushing in areas requiring special attention, rather than just trying to blast the dirt away.
We know that the climate that we live in provides additional challenges for us. Things like algae, moss, mold and other growths that need to be removed and have future growth curtailed are things we deal with as well. We don't just wash them away, we have solutions that get to the roots of these elements, making their return much slower than it normally would be. That is an additional benefit we provide through our approaches.
Complete Pressure Washing Solutions
We believe that commercial property owners spend too much time managing their exterior cleaning needs. So we've made things simpler. Lil Squirt Power Washing is your one-stop shop source for all your pressure washing needs. With the best solutions to guide us, we guarantee that you get top quality across all your services. This includes:
Concrete cleaning
Our hot pressure washing system and high PSI capability ensure that your concrete surfaces get the deep-cleaning treatment you need. We apply this solution to your sidewalks, your driveways, your parking lot, and more.
Drive-thru cleaning
We apply our deep-clean approach to your drive-thru to give this high traffic area a complete makeover. We remove everything from chewing gum to dirt to grease, so you can reclaim your property.
Parking garage cleaning
Dirty hardscapes are no match for our cleaning approach. With our high PSI pressure washing equipment, your parking garage will be safer, more inviting, and retain a long-lasting clean.
Building washing
We use soft washing or pressure washing to give your building exterior a complete transformation. By removing mold, dirt, mildew, and other bacteria, we protect your curb appeal and your property value.
Roof cleaning
Curb appeal starts at the top. We use our soft pressure washing solution to give your shingles the deep clean they deserve. Black streaks disappear — and in their place is a spotless roof.
'Above and Beyond' Pressure Washing
We believe that "exceptional" should be the standard. That's why Lil Squirt Power Washing invests in the best pressure washing equipment and methods to bring out the best in your property. With our team, you know you're getting:
• Dynamic power washing equipment: With high PSI capability, hot water options, and both pressure washing and soft washing, you get a solution tailored expressly to your property.
• Dedicated professionals: Every member of our team is trained, certified and dedicated to the success of your pressure washing service.
• Routine service: Want to keep your property at its best? We will help you work out a maintenance plan for your exterior.
Get the best out of your exterior. Turn to Lil Squirt Power Washing for commercial pressure washing solutions that make every corner of your property shine!
Reliability
We encourage you to check our customer satisfaction ratings and reviews. We work hard at keeping these ratings high, and in being ranked as the best in the area. Being a small, locally owned business, we understand the need to take pride in the work we do and the service we provide. If we can't make you very satisfied with the work we do we will have failed. That's why we make sure you are completely satisfied before we leave your property. We know you have a lot of pride in your home or business which is why you hired us to keep your property looking good. Rest assured that we look at your property in that light, and that you have hired a company that mirrors your pride!
Custom Cleaning Horse Stalls
Commercial Property Cleaning