Everyone deserves a beautiful deck, one that will serve as a setting to entertain friends and family. Our deck & fence restoration service delivers. With the expertise of our team, you get the most out of your surfaces for the long run.
Comprehensive Service for Exceptional Quality
A beautifully maintained deck and the fence doesn't just add value to your home; it makes your space an exemplar of curb appeal, too! Our team delivers complete wood cleaning and restoration services for all your exterior surfaces, including:
• Decks
• Fences
• Pergolas
• Arbors
• Gazebos
• Wood furniture
The Need for Deck Cleaning
When the elements and your wood surfaces combine, the result is simple: wear and tear. Left untreated, any type of wood structure falls victim to dirt and mold, which in turn results in:
• Lasting damage from mildew, mold, and other bacterial growth. Rot and decay are never a welcome addition to your home.
• Injury risk when mold accumulates, creating slippery surfaces. This triggers a significant risk of "slip and fall" accidents
• Reduced home value from degraded surfaces.
• Costly repairs that can even result in a need for a complete deck or fence replacement project
This is where Lil Squirt Power Washing comes in handy. We're not just a pressure washing company. Our team delivers a carefully crafted, professional service that uses:
• Low pressure: We know that when high-pressure water is applied to a wooden deck or fence it can become severely damaged. Our low-pressure washing approach is safe and effective. It's the only way to clean your wood surfaces in a way that is effective without exposing them to the risk of wear and tear.
• Year-round maintenance: We can provide routine maintenance cleanings that will leave any wood structure looking beautiful. Discounted rates are given to you if you schedule us to perform routine maintenance.
Part of maintaining these items includes having the wood sealed, which helps the product last longer. It is best to let our team renew your deck with our state of the art equipment and talented employees.
Superior Wood Restoration Services
Your property's wooden surfaces are some of your favorite parts of your exterior — so let's make sure they last! Lil Squirt Power Washing provides the following wood restoration services to invest in your exterior:
• Wood stripping
• Wood cleaning
• Brightening & neutralizing
• Wood staining & sealing
Get complete service, superior results, and a convenient experience with support from Lil Squirt Pressure Washing. Our team is here to make your exterior succeed!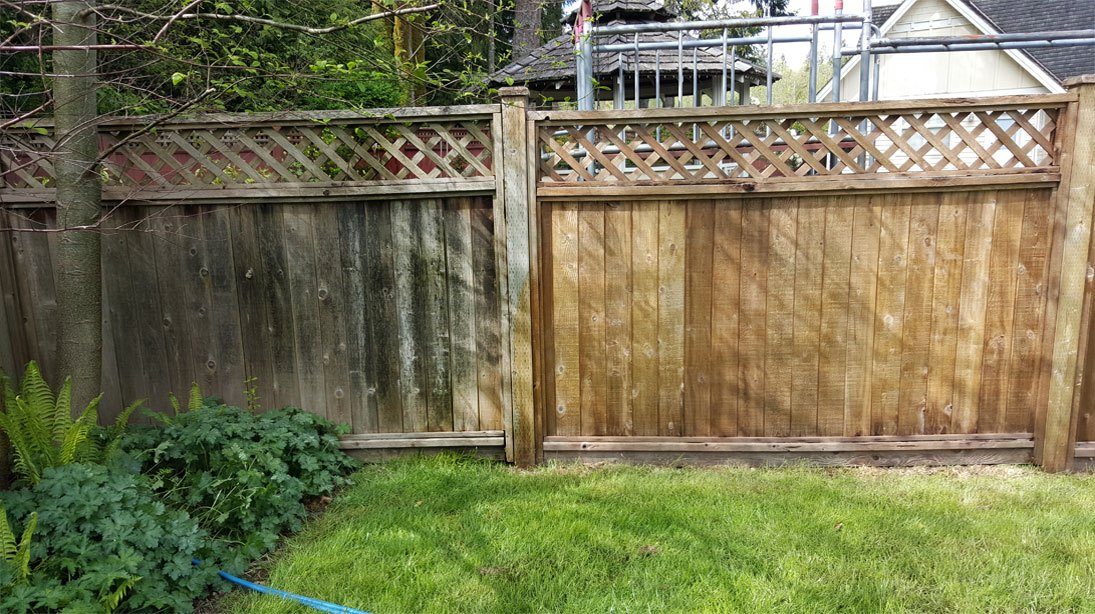 A lot of decks are constructed from treated hardwoods that are finished with some form of paint stain, either oil based or latex. Particularly in our climate, the high humidity levels cause us maintenance issues not necessarily seen in other parts of Canada. High humidity, coupled with various sun exposure levels, can cause fungus growth, like mold and algae that needs to be properly removed and treated or it can destroy the woods over a period of time. Over the years these materials have been directly exposed to the elements and when they are looking good and well maintained they do provide for a nice relaxing atmosphere in those spaces in your yard where you want to enjoy the outdoors. However, when aging starts to happen or mold or algae growths start to appear you no longer get the enjoyment and relaxation you should from your surroundings. Simple washing of the materials with a garden hose or home pressure washing pump does not provide the long lasting cleaning you are looking for.
Our professional equipment and technicians allow us to combine the most effective water pressure together with the proper cleaning solutions to give you a long-lasting job that restores your materials to an almost like-new condition. On top of that, and one of the big benefits we can provide is that we don't just wash off the mildew or mold, we attack the roots of it with proper chemicals that will curb its growth for an extended period of time. We know the proper chemicals to use to give the best solution to your individual situation, and know the longer term benefits to you is something you are looking for as well.
We also ensure our approach does not damage your landscaping, we clean up after and everything we do is done with the environment in mind. Please give us a call to stop around and discuss your needs and provide you with a free quote!