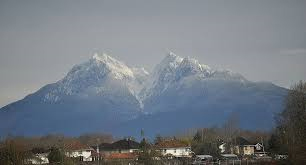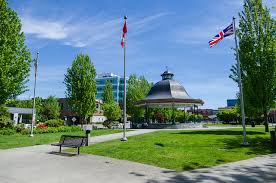 Maple Ridge is a city in British Columbia, located in the northeastern section of Greater Vancouver between the Fraser River and the Golden Ears, which is a group of mountain summits which are the southernmost of the Garibaldi Ranges of the Coast Mountains. Maple Ridge's population, in 2016 was 82,256. Its downtown core is known as Haney.
Maple Ridge is made up of several different historical areas including:
• Albion;
• Haney (downtown);
• Iron Mountain;
• Kanaka Creek;
• Port Hammond;
• Ruskin;
• Silver Valley;
• Thornhill;
• Webster's Corners;
• Whonnock; and
• Yennadon.
Some of these areas are identified with a cultural group. For instance, Albion and Webster's Corner are represented by the many Finnish families that settled in the area. While Port Hammond is known for its small cottage-like mill houses originally built by the local mill to house its workers. Ruskin is the location of a community hall of the Sons of Norway, although the area was founded by English followers of John Ruskin. Kanaka Creek originally was a community for Kanaka employees of Fort Langley.
Port Haney, located adjacent to the Fraser River to the southwest of downtown Haney, and the site of the West Coast Express commuter rail station, is a heritage district created to protect some of the remaining buildings from earlier times. In addition to buildings already on-site when this was the steamboat landing as well as the CPR station, other heritage buildings from around the City of Maple Ridge were relocated to Port Haney to preserve them and enhance the heritage flavour of the location.
It is the heritage and beauty of the city and surroundings that make residents so proud of their community.
That is one of the reasons why our company is located here. Lil Squirt Power Washing Inc. has its head office and main location in the city. Given the central location of Maple Ridge to many other communities in the region, make it a great fit for a business like ours to operate out of.
Lil Squirt Power Washing Inc. is a small business, locally owned and operated and serving the Greater Vancouver area including the Fraser Valley and beyond!
You have likely landed on our website as a result of searching for Pressure Washing services or Power Washing services, and we're glad you're here. We have designed our website to provide people with an overview of the services we provide, and some information on these services to help you better understand what might be best for the situation you are dealing with. Living in the coastal, humid area that we do, brings in the elements of mold, mildew, algae, etc. to our properties that we need to deal with regularly or they will simply destroy some of the elements of our facilities.
There are basically three types of Pressure Washing used in various environments.
• Pressure Washing
• Power Washing
• Soft House Washing
Pressure Washing
This is the most common approach used for most exterior home washing and roof cleaning. It simply is the use of high pressure water along with the most effective cleaning solutions to clean the materials being worked with. Our experience and expertise allows us to determine the most effective pressures and cleaning products required for all situations and all materials. Our technicians are all well trained so know the proper pressures to use on different surfaces so they don't damage the exteriors. We also use cleaning solutions that preserve your landscaping and that are environmentally friendly.
Power Washing
Power washing is also the use of water pressure to clean surfaces, but it also includes the use of VERY hot water, so the most effective cleaning is done on the surface being worked with. It is mostly used on tough surfaces like cement driveways or walkways, and combined with the proper cleaning agents, it easily removes things like stubborn chewing gum stuck to the surface, grease or oil stains, etc. Our professionals are very skilled at using the proper pressures and temperatures to do the most effective cleaning, while at the same time not damaging the surfaces, and you will be amazed at the finished product.
Soft House Washing
This descriptive heading speaks for itself. In certain situations, where the exterior materials are quite sensitive, and in order to not damage them, we use a soft washing technique that uses a low pressure water wash together with the most effective cleaning solution to give you the best cleaning possible while preserving your siding and not damaging any of the interior walls, etc. through the use of too high of water pressures. Our knowledgeable staff know the limits and best approaches to use for all situations. At all times we ensure we are not harming your landscape and that we are also not harming the environment.
So, regardless of your situation requiring attention, we are confident in our ability to provide you with the results you are looking for. We are so confident in our work, and desirous of providing excellence in service that we guarantee your satisfaction. We will not leave your home until you are satisfied with the job.
We also take a lot of pride in our customer satisfaction ratings, and encourage anyone looking at our services to check the customer reviews and ratings readily available on the internet or elsewhere. We work hard to be the best, and to provide cost-competitive professional service in every job we do. Please give us a call……we will be happy to give you a free quote for our services!