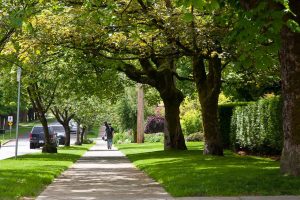 A beautiful photographic capture of the serenity and beauty of the city of New Westminster.
This picture is a great depiction of why New Westminster is a target market for our company, Lil Squirt Power Washing Inc. We take a lot of pride in being in the business to grow, and to help the residents of local cities keep their communities looking great, both for now and by continuing maintenance, for many years into the future. We pride ourselves in being classified as the best in the business in our immediate area which includes New Westminster, and one of the reasons we are able to maintain that ranking is through our dedication to completely satisfied customers and the professional and cost-effective service that we deliver to the various customers we have served and continue to serve.
Our company, Lil Squirt Power Washing Inc. would like to help you and the commercial enterprises of New Westminster, maintain the beauty of your city through the use of our services to keep your properties looking as great as you want them looking. We know that people in New Westminster take a lot of pride in how their city looks, and that philosophy mirrors our company's working philosophy of taking a lot of pride in our work and in how our work helps you achieve the curb appeal you want from your valuable property.
You likely reached this website as a result of your searching for Pressure Washing or Power Washing services in your area. Our company is dedicated to serving the Greater Vancouver area, the Lower Mainland, the Fraser Valley and other areas in the province. Our well equipped trucks and trailers are designed to allow us to work in a large geographic area. New Westminster is only 32 minutes from our head office location in Maple Ridge. We have put information on our website to show what services we provide and to provide people with some information describing what each service is, when it might be used, and give you an overview of what you could expect from using our services.
The following is a short descriptor of the three different types of cleaning services associated with exterior cleaning of homes and commercial properties.
Pressure Washing
Power Washing
Soft House Washing
Each of these are somewhat different, and used in different situations so the most effective and safest approach is used for your specific situation. A brief explanation follows to what these are:
The Difference Between Power Washing vs Pressure Washing
As far as the water pressure is concerned, both use similar amounts of pressure, but the amount of pressure just depends on the type of machine; a household unit won't offer up as much power as an industrial machine.
If we're talking only about the types of the machines, there is one key element that differentiates a power washer from a pressure washer: a heating element. Both machines create a powerful stream of high-pressure water, but a power washer also heats up the water. The water used can be VERY hot. This might seem like a small difference, but it actually makes a huge difference in how each is used, and depending on the materials being worked with each will be more effective in different situations. Our technicians are well trained in knowing the best approach to use in different settings.
Pressure Washing
is simply high water pressure washing, where appropriate cleaning solutions are also combined to provide the most effective cleaning for the materials being worked with.
Power Washing
is similar, however VERY hot water is also combined with the pressure to combat the debris being dealt with, and is very carefully used only on materials that will accept this approach with no damage, and so the most effective cleaning takes place. Concrete driveways, and stuck on discarded gum stuck to it would be good examples of when this approach would be best utilized.
Soft House Washing
is also used most effectively for more delicate sidings on homes or commercial properties depending on the materials being cleaned. Again, different cleaning solutions would be needed and used to ensure the most effective cleaning is done, and all of the above are always done with the result that surrounding landscaping and the environment are not damaged as a result of the approach used.
Please review materials elsewhere in our website, and then give us a call to come and discuss your needs and provide a quote for our help in dealing with your needs. We would love to be asked to show you what we can do!