We take issue with the term "curb appeal." It indicates that a property's first impression needs to start at the curb – at the ground level.
But in reality, that first impression takes shape the moment a customer enters your property. And often, that begins below ground.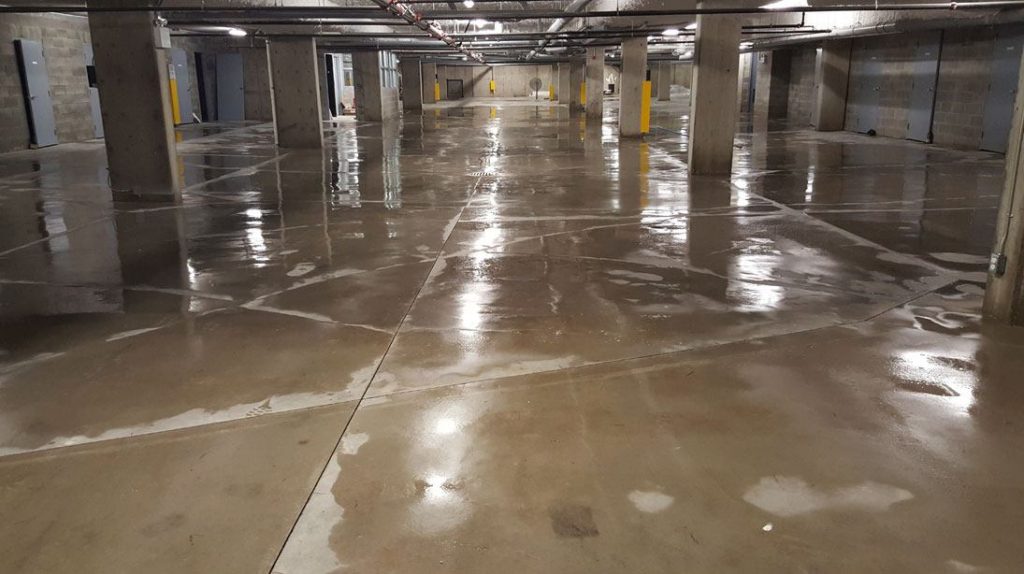 Our Parkade Cleaning Process
Parkades are a pivotal part of a business. This is where customers begin and end their experience with your property; it's where they form lasting opinions.
So it should come as no surprise that we take our parkade cleaning process seriously. Our team invests in a service that delivers:
Degreasing power
Our industrial-grade degreasing solution removes oil stains, skid marks, salt residue, and other tough spots.
Protection
If left untreated, contaminants like grease and salt degrade your hardscapes – and create a headache and a financial hardship down the road.
Environmental responsibility
We always use certified green products that invest in the health of the environment and your building occupants.
Safety
Our pressure washing system is safe, effective, and efficient. It protects parking lots from long-term damage and presents a clean exterior.
With our industrial grade pressure washing approach, your parkade will be beautiful, safe, and long-lasting. It's one less thing to worry about on your to-do list – and one more thing to benefit your property.
A Solution for Every Property
Every customer deserves a positive experience. And every property deserves a flawless first impression. We balance both needs. Our parkade cleaning service caters to client-facing properties, such as:
Grocery stores
Shopping centers
Medical buildings
Higher education campuses
Professional pressure washing is the best way to invest in your parkade – and better yet, it's the best way to invest in results that last. With Lil Squire Power Washing, that superior quality is always a guarantee. And the elevated customer experience will follow!