Make your windows a focal point of your property — not a major drawback! Lil Squirt Power Washing is your professional window cleaning resource.
Spotless, Streak-Free, and Simple
So often, we don't even realize how dirty our windows were until we see the "after" effect. It puts a bright spotlight on a simple truth: your windows have a huge impact on the ambiance of your home, and you often don't know what you're missing.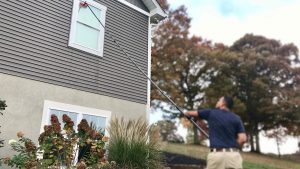 Our team delivers the specialized window cleaning service your property needs. We offer expertise that:
Uses purified water: The water used in our cleaning process ensures that your windows don't have to grapple with mineral buildup down the line.
Reaches every pane: Our water-fed pole cleaning systems can reach those tricky areas, all while our technicians remain safely on the ground.
Keeps you safe: Ladder falls are one of the leading causes of emergency room visits every year. We ensure that you aren't part of that painful figure.
Guarantees streak-free results: If your window has any streaks, our job is not yet complete.
Enjoy a Great View
With professional window cleaning, your windows aren't "just another part" of your home. They're a functional and beautiful focal point. Our routine cleaning service will:
Save your money. With up to 50% more natural light streaming into your interior, you can save on lighting and heating costs.
Enhance ambiance. Your interior will feel warmer and more inviting with maximized natural light.
Lock in quality: We prevent rot, decay, and deterioration when we remove mold, algae, and other spore growth from your window system.
With routine window cleaning, you aren't just investing in a spotless view for today; you're giving yourself a flawless vantage point for the long run. Let our team uncover the true potential of your panes with our window cleaning solution!