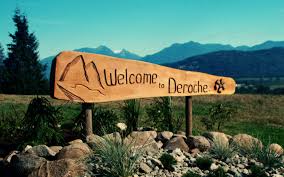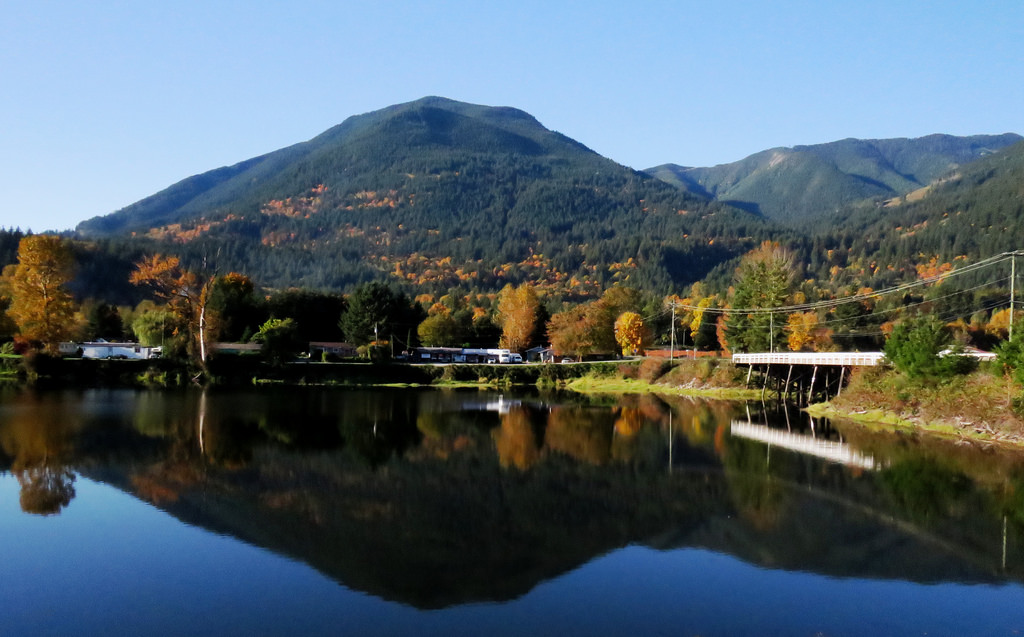 Deroche is a farming and railway community on the Canadian Pacific Railway and BC Highway 7 located approximately 110 km east of Vancouver, British Columbia, Canada. Deroche is adjacent to the eastern end of Nicomen Island, from which it is separated by the Nicomen Slough.
Located just east of Mission, the following description aptly applies to both communities as well.
Mission
Mission is a growing community of over 38,000 residents nestled in the Coast Mountains beside the Fraser River. Residents enjoy Mission's rich history and strong sense of community, while also retaining the benefit of ready access to the greater Vancouver area. It is surrounded by the incredible beauty of mountainous vistas and natural forest settings. The climate is warm in the summer and mild and wet in the winter. Flowers bloom most of the year, as the area is naturally hospitable to a wide variety or plant life and vegetation. Topographically, Mission enjoys an immense variation of hillsides and gullies which maintain natural neighbourhood enclosures, spectacular views, and a sense of permanence.
The descriptors used above speak volumes to the need for our services to help keep your properties looking good and remaining in good condition for the future. The climate of Mission and other communities in this vicinity has impacts on the exteriors of our properties, making it necessary to have them properly cleaned and preserved periodically so they continue to look good, and so the maintenance keeps them that way for some time into the future. Our company, Lil Squirt Power Washing Inc. is in the business of doing just that. With our headquarters in Maple Ridge, we are in close proximity to Mission and easily able to address your needs quickly and effectively.
You likely reached our site as a result of your searching for Pressure Washing or Power Washing companies in the vicinity. We pride ourselves in being ranked as the best in our area in this regard, and are very happy that you have been directed to our site.
We have tried to put together a website that describes the services we provide and a little detail on what some of those services include, and when and why they are used. Hopefully this may help you determine what might be best for your situation, however, we are very willing to come and discuss your needs with you at your convenience.
There are simply three main types of exterior cleaning used for both homes and commercial properties.
Pressure Washing
Power Washing, and
Soft House Washing
All of these are effective washing techniques we use for different situations.
Pressure washing
is the most common approach used for cleaning houses, and is controlled high pressure washing used with proper cleaning solutions to address certain conditions and materials. Our well trained technicians use just the right amount of pressure to give the most effective cleaning while not damaging any of the exterior of the home or commercial property. We also use exactly the right type of cleaning solution for every situation.
Power washing
is very similar, but it includes the use of VERY hot water along with the proper cleaning agents to address the situation being dealt with. This would likely be the best approach to use on a cement driveway as an example that might have some chewing gum stuck to it for some time, or grease, oil or other similar substances on it that need to be effectively removed. Again, our approach is determined by your unique situation, and we have the equipment and know-how to address your needs, whatever they may be.
Soft House Washing
speaks for itself. It is also pressure washing but it is very low pressure that is used along with our cleaning solutions, which is used in certain situations so as not to damage the exterior sidings, roofs or decks, etc. We need to expertly apply the water and cleaners at the proper pressure and angles, etc. so as not to penetrate too deep into sensitive areas, or do damage to interior walls by the use of too much pressure.
In all of the these types of cleaning processes we take care not to damage any of your property including your landscaping. Protecting the environment is also something we consider in our processes.
We also professionally clean your roofs, sidewalks, driveways, decks, etc. and have experience with all types of surfaces and situations.
Commercially we are well known for our approaches with larger stratas, parking lots, larger commercial properties and many unique situations. Our work is guaranteed, and our history speaks for itself. Please take the time to view our reviews, and the quality numbers that show on the google search page. We work hard to keep those in the excellent category as we know how important those are when you're looking at hiring someone to work on your largest investments…..your real estate properties – your homes!